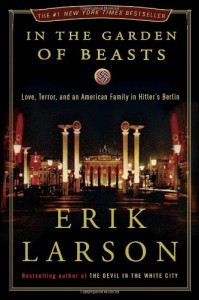 Did not finish (8%). I was really excited to read this, but couldn't continue wasting my time on it when there are other books that probably won't make me want to peel my eyes out of my skull in boredom.
As stated by a few other reviewers, Erik Larson somehow manages to make a fascinating year in German history...utterly boring. Hitler's rise to power is not a boring subject, and I should have been unable to put this book down. Instead, we are treated to tiny interesting snippets of information amid pages of information about:
-How many people Dodd's daughter Martha has been engaged to (including excerpts from love letters)
-How unhappy Dodd was with pretty much everything in his life (despite the fact that during the Depression he owned 300+ acres of farmland in addition to his Chicago house, had a good job, good family, etc.)
-How much Dodd wished he could finish his Old South books before he died
-How grumpy Dodd was that FDR didn't take his personal letters while he was a professor
It seems like Larson couldn't pick which subject he wanted to write about: Hitler's rise to power, Dodd's personal dissatisfied musings, or Martha's affairs. And I find it hard to believe that this family was the best filter through which to tell about this year in Berlin.